Thermo3D has been developed for decoration of thermoformed parts.
How it works:
— Measure 3D distortion of thermoformed parts in Capture3D 2017™.
— Decorate 3D parts in Pigmentz 2017.
— Predistort artwork with Thermo3D plugin in Illustrator™.
— Publish final decoration into 3D pdf (compatible with Acrobat Reader) or html5 file.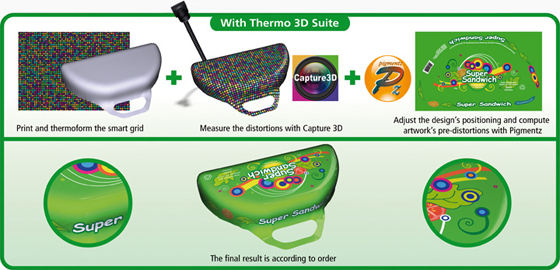 ---
---
Thermo3D brochure*

 *Adobe Acrobat Reader required
---
Version 2017 New Features
Capture3D
– Performance increased with more precision and speed.
– Possibility to select several resolutions of the camera.
– Pattern to measure can be printed with black or white lines.
– New feature for automatic alignment.
– New feature for smoothing the noise measurement.
– Interface with a better ergonomic to display the 3D object.
– Computation of the measure can be cancelled.
– Remote control to take snapshots with a mobile device (smartphone, tablet…). The device navigator must be compatible with HTML5.
Pigmentz
– The new version Pigmentz is compatible from Illustrator CS6 to CC2017.
– Addition of high resolutions decoration to improve the 3DPDF quality.
– Warpgrid mapping has been renamed by Envelope 3D for a better integration with Illustrator.
– Export of decorated 3D models to visualize them with latest web browsers (Firefox, Safari, Opera, Chrome, Edge, Internet Explorer) of computers, tablets, smartphones supporting WebGL and HTML5.
– Load of several Capture3D projects in a single step.
– New feature to automatically align 3D objects (Capture3D projects and 3D file formats obj, iges, collada).
– Feature to transfer decoration between any 3D objects and Capture3D project.
– Automatic sorting of Capture3D projects with similar distortions to compute the average 3D object.
– Visualization of Capture3D snapshots in Pigmentz 3D interface.
– New feature of global predistortion.
Operating systems & configuration
– Windows 7, Windows 8, Windows 8.1, Windows 10.
– MacOS X Mavericks 10.9.5, MacOS X Yosemite 10.10.2, MacOS X El Capitan 10.11, MacOS 10.12 Sierra.
Processor
Intel Core i5 or i7.
Memory
– RAM: 8 GB It requires a 64 bits version of Windows.
– Hard Drive (SSD strongly recommended): 5 GB for software installation and 50/100 GB for saving project files.
Video Cards
– Nvidia GeForce 500 series equivalent or higher with 1GB memory.
– ATI Radeon HD 5000 series equivalent or higher with 1GB memory.
Illustrator
Version CS6 / CC2017 (64 Bits).